Statesville Regional Airport Hosts Summer Campers from Boys & Girls Club of the Piedmont
---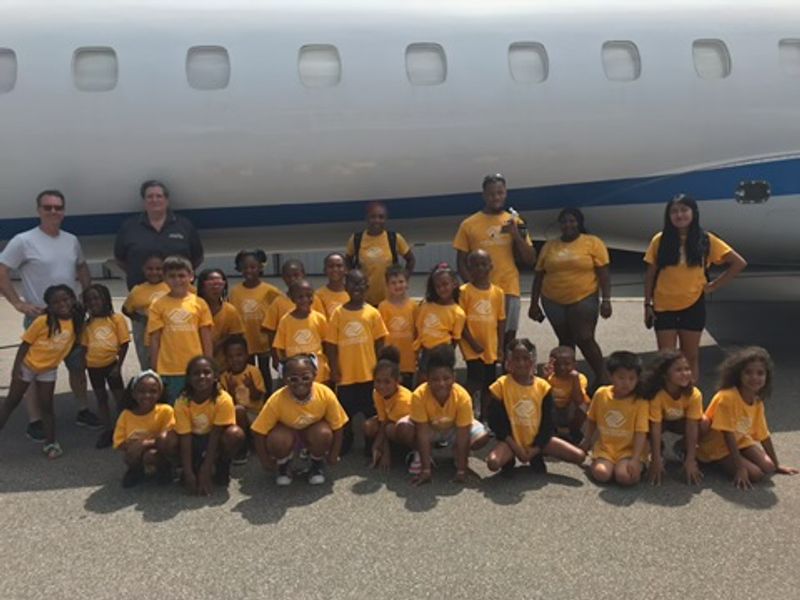 The Statesville Regional Airport was buzzing with excitement as it played host to a group of enthusiastic summer campers from the Boys & Girls Club of the Piedmont on July 13. Airport Manager John Ferguson and his dedicated team organized a day filled with exploration and education to provide the campers with an unforgettable experience.
The day kicked off with a warm welcome from John Ferguson, who shared his passion for aviation and provided the campers with an overview of airport operations.
Campers embarked on an extraordinary journey through the airport's facilities. Their first stop was Iredell Air Care, where skilled technicians demonstrated the intricacies of aircraft maintenance. The campers were captivated as they witnessed small aircraft being meticulously worked on, gaining insights into the care required to ensure their safe operation.

Campers were then taken to Carolina Aviation Technical Services, a hub for jet maintenance and repair. Amidst the impressive hangars, the campers observed technicians in action, inspecting engines and conducting intricate repairs on jets. The experience provided a glimpse into the dynamic and complex world of jet maintenance.

The highlight of the day came when the campers visited Victory Air, where they had the incredible opportunity to tour an actual jet. The hands-on experience left a lasting impression on the campers, inspiring dreams of future aviation adventures.

Adding to the excitement of the day, pilot John Gorman treated the campers to a thrilling demonstration as he performed two high-speed passes down the runway, showcasing the power and precision of aviation.

Airport Manager John Ferguson expressed his delight in hosting the Boys & Girls Club campers, stating, "We believe in fostering a love for aviation from an early age. By exposing these young minds to the world of airports and aircraft, we hope to inspire them to explore careers in the industry and nurture their dreams of flight."
The visit to the Statesville Regional Airport proved to be an educational and awe-inspiring day for the campers. Through the efforts of John Ferguson and his dedicated team, the campers were able to experience the magic of aviation up close, sparking their imaginations and broadening their horizons.
Special thanks to Iredell Air Care, Carolina Aviation Technical Services, Victory Air, and John Gorman.