Important Leaf Collection Guidelines: Bagged & Loose-Leaf Disposal
---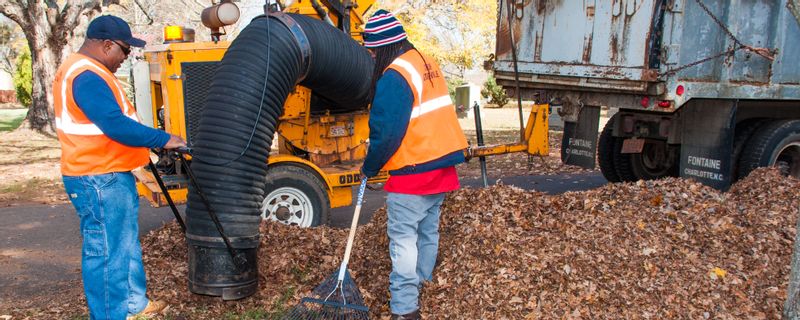 Statesville, North Carolina | August 29, 2023
As the City of Statesville gears up for the upcoming loose-leaf collection season, we would like to alert residents of an initiative that will continue from last year. The Public Works Department is pleased to offer 60-gallon leaf bags once again this year to aid in efficient leaf disposal.
Beginning September 5th, 2023, city residents can pick up 60-gallon leaf bags at no charge. Each household is eligible for a free roll of 15 bags per month, available until December. For those requiring extra bags, additional rolls can be purchased for $2.00 each. Bags can be picked up at the following locations:
To ensure the success of this program, we kindly request that you use these bags solely for their intended purpose – collecting leaves. Please refrain from using them for garbage disposal. Your cooperation is vital to the success of this initiative.

Bagged leaves will be picked up alongside your regular garbage collection each week. This arrangement guarantees a timely and efficient leaf removal process. Please note that loose-leaf collection will not begin until October.

A schedule outlining the loose-leaf collection timeline will be made available in the coming weeks. For residents opting for loose-leaf collection, we ask for your cooperation with the following guidelines:
Place leaves on the curb in front of your residence, at the edge of your yard and behind the curb.

Avoid placing leaves on streets or sidewalks.
Maintain distance between leaf piles and parked vehicles.
Keep sticks and limbs separate from the leaf piles.
Prevent leaves from obstructing storm drains.
Ensure your water meter remains visible and accessible.
Again, it is important to note that bagged leaves are collected weekly along with regular garbage pickup. This eliminates the need to wait for leaf collection trucks for an extended period.

About the City of Statesville
The City of Statesville is truly a diverse community that welcomes new people, new voices and ideas, new industry, and business. We have already made significant investments in our downtown amenities, our business sector, our schools, our infrastructure, and more is on the horizon. We are creating a dynamic future for ourselves as we build on our successful history and the positive energy we experience today, all the while incorporating the values and quality of life that we cherish. To learn more visit www.statesvillenc.net.
---