2023 Fill the Trailer Toy Drive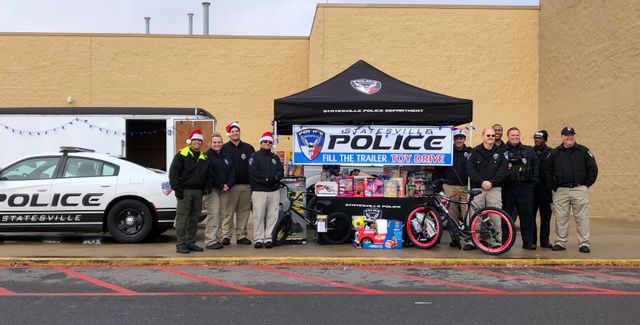 Description
The Statesville Police Department (SPD) 2023 Fill the Trailer Toy Drive is a community initiative aimed at spreading holiday cheer to families in need. Many families in our community face financial hardship and are unable to provide the extras that make the holiday season special for their children. We believe that with your help, we can make a significant difference and bring joy to these families.
Donation Ideas
We welcome a variety of gifts, such as:
Board games, cards, travel games, puzzles, and books
Sports-related items, including footballs, basketballs, soccer balls
Electronic handheld or portable games
Manicure sets, hair & nail accessories, fragrance sets
Hat & glove sets, scarves
Art & drawing supply sets, craft sets, educational toys
Remote controlled vehicles, toy cars, action figures, dolls
Please note that we cannot accept gift cards, monetary donations, clothing, stuffed animals, or food items.
Donation Drop-off Location:
You can drop off your donations at the Statesville Police Department Headquarters, located at 330 S. Tradd Street, Statesville, NC 28677, in the designated drop-off area through December 15, 2023. If you prefer to contribute via online ordering, you may have your items shipped to the same address.
Toy Drive Dates:
To make it even more convenient for our community to participate, SPD Officers and staff will be present at the Walmart Supercenter located at 1116 Crossroads Drive on the following dates and times:
Saturday, November 11, 2023, from 12:00 PM to 4:00 PM
Saturday, November 18, 2023, from 12:00 PM to 4:00 PM
Saturday, December 2, 2023, from 12:00 PM to 4:00 PM
Saturday, December 9, 2023, from 12:00 PM to 4:00 PM
Let's come together as a community and make this holiday season a special one for those in need. Your generosity can bring smiles to the faces of children and families who deserve a little extra holiday magic. Thank you for your support!
---
Walmart
12:00 PM EST
to 4:00 PM EST
Originally posted by Statesville Police Department via Locable

Statesville Police Department
330 S. Tradd Street
Statesville, NC 28677
704-878-3406
www.statesvillenc.net
Mon, Tue, Wed, Thu, Fri
8:00am- 5:00pm