City of Statesville Leaf + Yard Waste Collection
---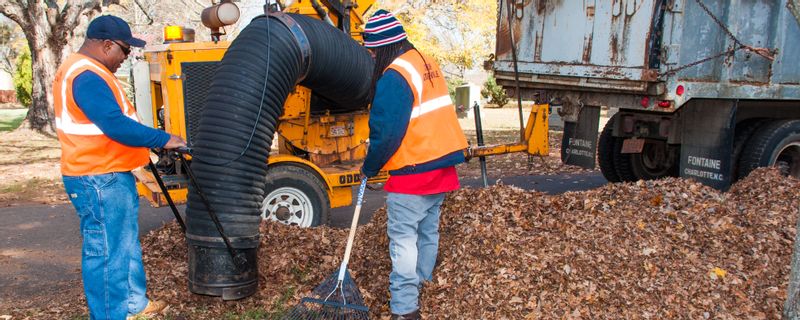 Fall 2023 Leaf Collection
🍂 As we transition into the fall season (Fall 2023), the 𝑺𝒂𝒏𝒊𝒕𝒂𝒕𝒊𝒐𝒏 𝑫𝒊𝒗𝒊𝒔𝒊𝒐𝒏 is gearing up for the 𝑳𝒆𝒂𝒇 𝑪𝒐𝒍𝒍𝒆𝒄𝒕𝒊𝒐𝒏 season.
Loose leaf collection is scheduled to begin in 𝑨𝒓𝒆𝒂 𝟏 on Monday, 10/16/23, and residents are asked to please refrain from placing leaves and debris on sidewalks or in the streets.

COMING SOON! Once you have determined your Leaf Collection Area, view the Leaf Collection Schedule HERE.

As a reminder, the 𝑷𝒖𝒃𝒍𝒊𝒄 𝑾𝒐𝒓𝒌𝒔 𝑫𝒆𝒑𝒂𝒓𝒕𝒎𝒆𝒏𝒕 is offering residents a monthly supply of free 60-gallon leaf bags until December 2023.
Curbside Etiquette
Place your leaves on the curb in front of your residence on the edge of the yard and behind the curb.
Leaves should not be placed in the street or on the sidewalks.
Do not park near the leaf pile.
Do not mix sticks or tree limbs in with the leaf pile.
Do not place leaves near storm drains; clogged storm drains cause flooding.
Do not cover up your water meter.
Bagged leaves are typically collected faster than loose leaves. Customer Service located at 301 S. Center Street has 60-gallon bags available for sale in increments of 15 for $2.00.
Place leaves in 32-gallon containers that have lids and handles.
Utilize a mulching lawn mower and mulch leaves back into the lawn, providing nutrients for the soil.
Place leaves in and around plant beds and under trees and shrubs for good soil nutrients and plant insulation.
Used paint (empty and dry paint cans are acceptable)
Construction debris, lumber, sheetrock, brick, block, plywood
Roofing materials, guttering
Fencing, Doors and Windows
Batteries, Tires, Gas Tanks, Oil
TVs and computers/components
Leaf Collection Alternatives
Crews will pick up bagged leaves and limbs (4 ft. length or less) up to 2 cubic yards (3'x3'x3') at the curb any time of the year, typically on your regular garbage collection day. Do not place yard debris in the streets. If a resident uses a contract landscaper, the landscaper is responsible for removing the yard waste.
If there is more than a pick-up truck load of debris, schedule a pick-up at 704-878-3415.
There may be a $65 fee.
To schedule a pickup of yard waste (not including leaves), please use the contact form below:

Bulk Items Collection
Place old furniture, stoves, refrigerators, water heaters on the curb for pickup on your regular garbage day. The city will not pick up.
You may take these to the landfill and place them in drop off areas.
---